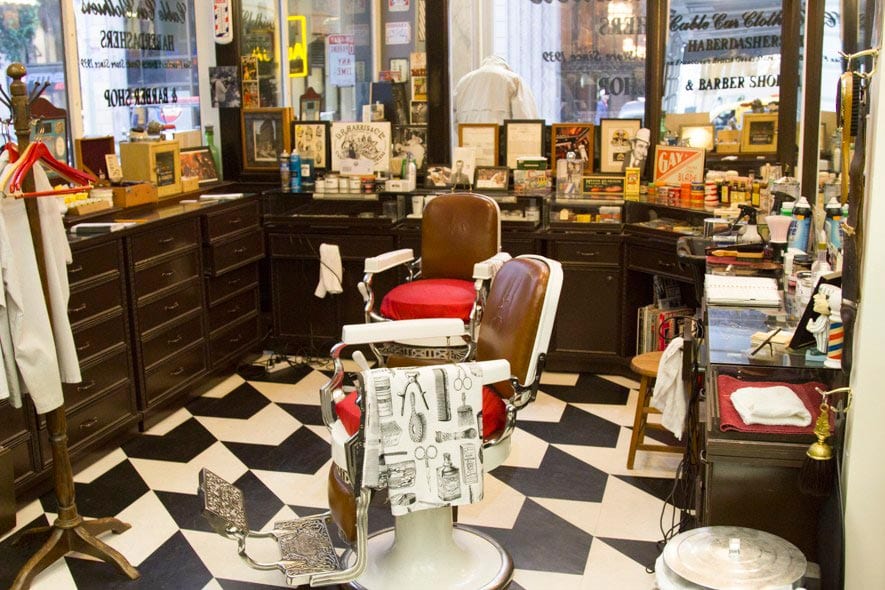 New wave of barbershops brings back golden age of men's grooming with old-style shaves, haircuts – plus a few twists
Barber James Lizotte is giving a shave today – and he's going back to the 1920s to do it.
He leans over the antique barber chair while his client, Max Goodberg, 30, closes his eyes and almost falls asleep. Lizotte goes through his ritual: He lathers thick shaving cream on Goodberg's face and neck with a badger hair brush. Then, in 14 choreographed strokes, he removes the cream with a 5-inch knife. For the finale, he wraps a hot towel around Goodberg's face before splashing bay rum on his cheeks.
"Back in the day," says Goodberg, slapping his cheeks and smiling, "men used to take more pride in themselves."
In San Francisco, and places like New York and Seattle, old-fashioned barbershops are bringing that pride back, offering both traditional straight-razor shaves and tight, old-fashioned haircuts.
The latest in a series of hypermasculine throwbacks, these retro establishments are full of pre-1930s barber chairs, hand-powered barbering tools, folksy wooden touches, straight-razor shave kits, whiskey and, of course, the signature red, white and blue barber poles.
These days, they have customer lines that rival those at Bi-Rite Creamery.
Waiting in line are predominantly young men working in tech and finance who find their barbers on Yelp.com. They're often in lean Dockers and clean flannel, tight black jean vests or vintage smoking jackets.
Lizotte is blown away by how popular the Prohibition-theme Peoples Barber & Shop has been since it opened in the Polk Gulch in July. "The numbers are amazing. It's way beyond expectations," he says, standing under the logo that looks as if it had been peeled off an old Western saloon.
In the past year alone, half a dozen of these shops have opened. Each has its own character. There is Oakland's no-stylists-allowed Temescal Alley Barbershop, the uber-authentic Cable Car Clothiers, and the relaxed Peoples Barber & Shop. Leading the way was the hipster-haven FSC (Freemans Sporting Club) Barber, which opened in 2011.
Female-centric salons like Barber Lounge are installing retro male grooming corners. Wingtip clothing store opened one in its private club. 1512 Barber Shop brews its own rye whiskey. And it's not just hipsters and bankers – even Macy's put a shop in.
"Before this, guys had two options – a chop shop like Supercuts, or a women's salon where they can sit next to ladies with foil in their hair," says Shorty Maniace, who reintroduced some of the original retro-cut protocols that helped launch the popularity of the old-style barbershops in 2006.
"In the '20s or in the '40s, it was different. Men were allowed to care more. The '60s killed barbering 'cause everyone wanted to look like a hippie, but it's come back."
Mayur Hiremath 35, an Intuit manager and recent customer at Maniace's Mystic Barbers shop in Civic Center, says, "It's about taking yourself a little more seriously, like men used to. It's a great haircut for 30 bucks. I don't end up looking like a teenager. And I don't have to go to a women's salon."
…
Cable Car Clothiers
In November, the Financial District haberdashery Cable Car Clothiers opened an in-store barbershop designed by Nick Calvanese who lives a retro-immersion lifestyle and is one of the most period-correct barbers in the city.
His methods are obsessively old-fashioned – in and out of the shop. At work, he uses a handheld massager, the stimulax, from the 1940s – and keeps the original box to prove it. And he's built a small museum in back of the shop. There he has the first handheld clipper ever made, the first handheld hairdryer, the first Gillette safety razor, and olive oil pomade from Murray's that's used in prisons ("Institutional Sale ONLY," it says on the side).
He will only do a cut that has actually been done before, with photographic evidence.
"People come in and ask for pompadours or business casual cuts. Sometimes they just say they want something retro, but I won't make anything up," he says. He pulls out a vintage Facial Hair Types card and his look book: "Mug Shots" by Raynal Pellicer. "I cut based on these," he says flipping through the photos, which look like police mug shots.
Calvanese has worked on the Hollywood sets "Boardwalk Empire" and "Public Enemies" and with the local store Decades of Fashion and the Art Deco Society. He's a regular in hot rod magazines like Ol' Skool Rodz and Gearhead, and he keeps the press clips on hand.
"I live life like it's the '20s, '30s and '40s. I wake up different than others, down to the way I make coffee," using a vintage stainless French press, says Calvanese emphatically. "Everything I do I try to make it period-correct."
He wears a pinstriped barber's jacket from the 1940s and keeps his hair slicked back.
"Those guys at the other shops pay a lot of money to look retro," he says. "But you can't just buy this. You have to live it."
"TV shows like 'Boardwalk Empire' and 'Mad Men' are bringing back traditional barbers – men want the older styles," he says. "History repeats itself, especially here in the Financial District."
…
by Nelli Bowles
www.sfgate.com
May 8, 2015